BASIC CHORD SCALES

How to work out what chords are in a Major key signature.
It is important for musicians to understand what chords belong to any given key. This not only helps in songwriting, but also in being able to provide interesting chord comping behind a soloist.By understanding the relationship between chords and keys,you can determine what scales are appropriate to use when soloing.

Chord Scales are formed by adding 3rds and 5ths above the Major scale notes. The following diagrams illustrate how Triads (3 note chords) are formed by adding these notes to the C Major Scale. Note that chord 5 can be either a Major or Dominant 7th Chord.Chords can also be derived from other scales using the same method of adding 3rds,5ths, 7ths and even 9ths above the base scale being used.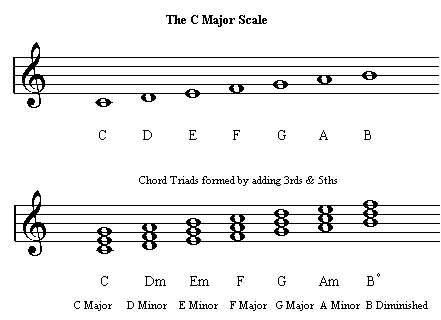 The basic chord types will always be the same:
Some Common Guitar Keys
| CHORD I | CHORD II | CHORD III | CHORD IV | CHORD V | CHORD VI | CHORD VII |
| --- | --- | --- | --- | --- | --- | --- |
| Major | Minor | Minor | Major | Major or 7th | Minor | Diminished ( ° ) |
| C Major | D Minor | E Minor | F Major | G Major or G7 | A Minor | B ° |
| G Major | A Minor | B Minor | C Major | D Major or D7 | E Minor | F# ° |
| D Major | E Minor | F# Minor | G Major | A Major or A7 | B Minor | C# ° |
| A Major | B Minor | C# Minor | D Major | E Major or E7 | F# Minor | G# ° |
| E Major | F# Minor | G# Minor | A Major | B Major or B7 | C# Minor | D# ° |